FutureSound Presents Amaurosis
Please note the above timings relate to doors (opening and closing times). Performance times may vary.
Our resident street food pop-up Shuk will not be serving food before or during the event this evening.
Join FutureSound, Junkerry & guests for a one-of-a-kind IMMERSIVE SOUND EXPERIENCE followed by the FUTURESOUND CHRISTMAS SOCIAL at the groundbreaking EartH THEATRE in Hackney.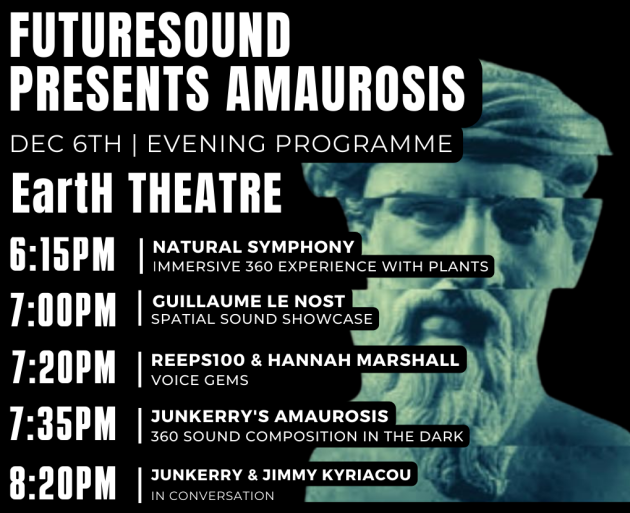 FEATURING::

:: 45-MINUTE SPATIAL SOUND EXPERIENCE IN THE DARK (blindfolds provided) by French pioneering spatial audio musician and composer Junkerry using EartH's state-of-the-art L-ISA Immersive Hyperreal Sound Technology & visuals provided by Lucy Hardcastle Studio.
:: REEPS100 of VOICE GEMS presented by HANNAH MARSHALL Award-winning British artist HANNAH MARSHALL introduces REEPS100 (Harry Yeff) founder of the VOICE GEMS project.
REEPS100 is a London-born composer and new media-artist who will be showcasing the inspiration behind his groundbreaking project VOICE GEMS: 1000 YEAR ARCHIVE. VOICE GEMS is 200,000 particle system designed by REEPS100 and Trung Bao. The generative system utilises unique features found in a human voice to generate one-of-a-kind digital gemstones and physical sculptures. In 2022 the project gained global attention with features in Designboom, WIRED, FAD, Hypebeast, Wallpaper, Fast company and physical exhibition at W1, Art Basel, Konig Gallery and Davos2022.
:: POWERED BY PLANTS Opening the evening will be Natural Symphony. This live audio/visual installation showcases the unseen connection between nature and humanity with his debut performance using spatial sound. The live performance uses plants, synthesizers, and biofeedback devices to create a soundscape that sweeps you into an immersive audio experience.

:: LEARN about the latest developments in spatial sound showcased by Guillaume Le Nost, Managing Director, L-Acoustics.
:: JOIN the FUTURESOUND CHRISTMAS SOCIAL as we move into EartH's newly refurbished Bar & Kitchen Area featuring our special guest DJ BUSHWACKA!  (8:40pm-Midnight)
:: EVENT HOSTED by Jimmy Kyriacou from FutureSound
LATEST INFO: futuresound.io
Location:
EartH
11-17 Stoke Newington Rd
Dalston
London
N16 8BH