Meat Loaf: 10 Stranger Than Fiction Facts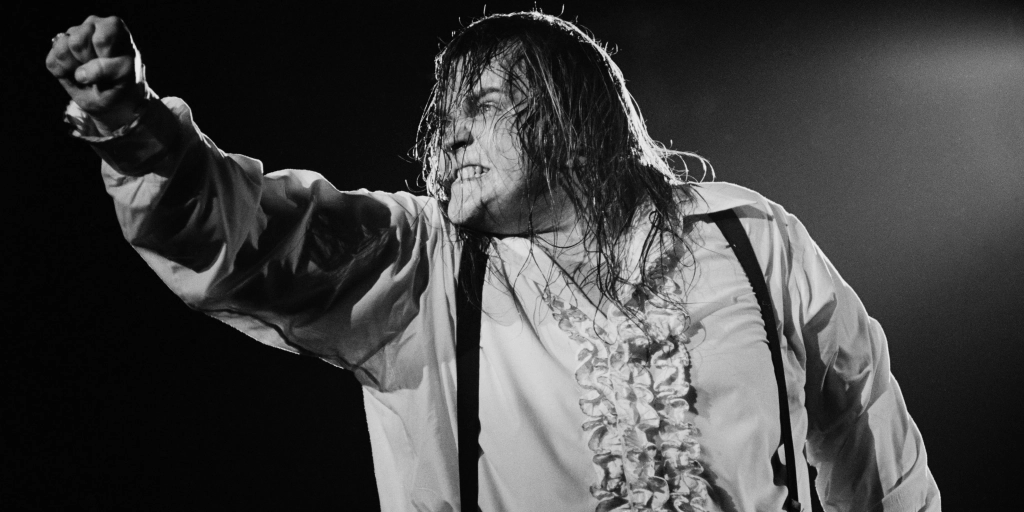 As one of the music and entertainment industry's best-loved larger than life characters, the stories surrounding Meat Loaf are stuff of legend. Michael (formerly Marvin) Lee Aday himself loved to embellish the truth, making for a legacy as much shrouded in mystery as epic tales of adventure, 12-pound shots and … Spice Girls.
Ahead of A Tribute To Meat Loaf by Candlelight on Thu June 2, we've collected together some of our favourite facts (or maybe fictions?!) about the beloved singer. While you're at it, stick on Spotify's Meat Loaf radio playlist if you fancy hearing some inspirations and influences.
1. It took a monumental blow to the head for Meat Loaf to discover his singing range
While many people have heard that it was his middle school football coach who first called the singer Meat Loaf after he stepped on his foot by accident, that wasn't all that took place during Michael's formative years. He was reportedly hit over the head with a 12-pound shot put, which nearly killed him.
"I was standing 62 feet away with my back turned, warming up and there was no way anyone thought it would be tossed that far," he told Contact Music. "But the guy who hit me was the champion of Dallas. Everyone else was throwing them about 30 feet." Instead, the accident helped him discover his singing abilities: he tried out for the choir and realised he had a vocal range spanning three-and-a-half octaves.
2. 'Total Eclipse of the Heart' was almost a Meat Loaf song
With singles like 'I'd Do Anything For Love( But I Won't Do That)' and 'You Took the Words Right Out of My Mouth', Meat Loaf had no shortage of power ballads in his repertoire, but did you know 'Total Eclipse of the Heart' was nearly a Meat Loaf song too? Written by his long-time collaborator Jim Steinman (who worked on his 1977 album Bat Out of Hell), 'Total Eclipse' was meant to appear on Meat Loaf's next album, Renegade Angel, but his record company passed on the offer. Instead, it was Bonnie Tyler who released the song in 1983, making it one of the most recognisable hits of the decade.
3. Did a Secret Service agent hijack Meat Loaf's car after John F Kennedy's assassinatation?
Writing in his autobiography, To Hell and Back, Meat Loaf claimed that on the day of John F Kennedy's assassination, a frenzied Secret Service agent hijacked the singer's car in a rush to get to Parkland Memorial Hospital. Meat Loaf gave conflicting accounts of his whereabouts on 22 November 1963, but he was at Parkland Memorial Hospital at the time of the US President's death.
4. Meat Loaf nearly moved to Hartlepool after becoming a huge fan of the local football team
Before Ryan Reynolds and Rob McElhenney bought Wrexham AFC, a certain famous Texan reportedly looked into relocating to Hartlepool because of his love for Hartlepool United FC.
"I started asking 'what would be a really odd team for me to say that I root for?'" Meat Loaf told Setanta Sports News, recalling how he became a Pools fan. "The person who I was talking to said Hartlepool."
Back in 2003 the BBC reported that Meat Loaf was looking at homes in the North East of England, with local estate agents eager to show the singer around their properties.
5. Meat Loaf gave Charles Manson a lift to Dennis Wilson's house in LA
Also in his autobiography, Meat Loaf alleges that he unknowingly picked up a hitchhiking Charles Manson after spotting him hovering around Sunset Boulevard.
According to the singer, Manson asked Meat Loaf to drive him to Dennis Wilson's house where he insisted Meat Loaf could "meet a Beach Boy." "There was no Beach Boy there, although it actually was Dennis Wilson's house," Meat Loaf detailed in To Hell and Back. He didn't think much of the incident until he saw Manson's face on television following the Tate-LaBianca murders.
6. Bat Out of Hell started out as a Bruce Springsteen parody
As one of the best selling albums of all time (only beaten in rankings by Michael Jackson's Thriller, AC/DC's Back in Black, and Whitney Houston's The Bodyguard and spending 522 weeks in the UK Albums Chart), Bat Out of Hell was actually conceived by producer Todd Rundgren as a parody of Bruce Springsteen's grandiose style. ​​It wasn't just in concept: Springsteen's E Street Band pianist Roy Bittan and drummer Max played on the Meat Loaf album.
While Steinman always claimed Springsteen was "more an inspiration than an influence", Rundgren said that the record was somehow influenced by Springsteen's "rural suburban teenage angst". In a 2017 interview with Billboard, Rundgren even admitted that he first "saw it as a spoof of Bruce Springsteen" which is what sold the album to him.
7. As with many cult classics, Bat Out of Hell failed to make an initial splash
It was only months after its release, when a concert video of its title track appeared on the BBC's The Old Grey Whistle Test music programme, that an audience in the UK were able to hear Meat Loaf for the first time.
Show presenter Bob Harris told I News: "I was presenting The Old Grey Whistle Test and we got an advance copy of the video for Bat Out of Hell. We'd not really heard about Meat Loaf before. "It was an amazing piece of work. Really dramatic stuff and because the music was so different and so powerful, we put it out on the show that following week and, I'm honestly not kidding, the reaction was unbelievable to this film.
8. Meat Loaf had a penchant for strange names…
His early career was spent performing with bands, forming his first, Meat Loaf Soul, in LA. Then came Popcorn Blizzard and Floating Circus, who opened for the Who, the Fugs, the Stooges, MC5 and Grateful Dead.
9. …And a fateful chance encounter in a car park changed everything
Meat Loaf caught a big break when he took a parking lot job at a theatre in L.A. that was holding auditions for the play Hair. Because of both his size and singing ability, he was invited to audition after meeting one of the show's producers in the parking lot. Later, Meat Loaf was offered a prime role in the New York cast of Hair. He also went on to appear in the theatrical productions of More Than You Deserve, As You Like it, and The Rocky Horror Picture Show. It was whilst he was in New York that Meat Loaf met his Bat Out of Hell collaborator Jim Steinham.
10. He's known to have starred in The Rocky Horror Picture Show, Fight Club and Wayne's World. But did you spot him in Spice World: The Movie?
According to Meat Loaf, it started as a joke. The Texan-born singer recalled meeting friend Paul Conroy, the head of Virgin, for breakfast one morning, when Paul told him they were working on the Spice Girls' movie. 
Meat Loaf, aghast, told Paul: 'They're doing Spice World and you didn't put me in it?!
'And I was winding him up, I mean, I was really, like, pulling his leg. He goes "Oh, well, I'll probably get you in the film."
'And I said, "Well I'll be here all afternoon, I'll be waiting!"'
While the singer himself admitted he was 'joking', he still 'didn't let [Paul] off the hook' – but Paul called his bluff and called him the very same day telling him he had the part.
And when Meat Loaf tried to back out, telling Paul he was 'kidding' and he had to go back to Germany, Paul wouldn't let him. He ended up playing the Spice Girls' tour bus driver Dennis. When asked to fix the toilets, Dennis says that he'd do anything for the girls, "but I won't do that!", a reference of course to Meat Loaf's famous hit single.
---
A Tribute To Meat Loaf by Candlelight is on Thu June 2, when we'll be celebrating all of Meat Loaf's classics in stunning candlelit surroundings of our EartH Theatre with the London Symphonic Rock Quartet accompanied by guest vocalists.